For Your Soul
Things to Think About


---
Daily Devotionals . . .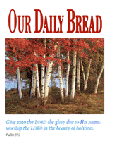 Preach the Gospel daily,
Use words if necessary!
— St. Francis of Assisi
---
September 11th and
The United Methodist Response
Through UMCOR
The UMCOR staff and board of directors take seriously the responsibility to be faithful to the thousands of United Methodists and others who have given funds as we heed Christ's call to serve "the least of these" in the wake of this disaster.
Never before has any relief agency in this country faced a disaster like that of September 11. As one official of an organization struggling to distribute $10 million it had collected said, "We were shocked at how difficult it is to give away money responsibly." The key word here is "responsibly." UMCOR has high standards of accountability and is committed to providing assistance to those who are most in need and often overlooked by other relief efforts-those who have no insurance or are ineligible for government assistance.
What makes this disaster so different? There are no houses to repair or rebuild. We can't go in and muck out homes as we do after a flood. The "victims" are not easy to identify. They are in a widespread, densely populated area. There is a list of those who lost their lives, but no comprehensive list exists of those who lost their jobs on September 11 or the months following. There is no master list of everyone in New York, New Jersey, or Connecticut who is struggling to pay the rent or mortgage or utility bills. Many immigrants lost their incomes- incomes that not only were paying bills in this country but also were sustaining families back home. There is no list of those who are suffering from post-traumatic stress syndrome. The figure may be as high as 40 percent of those who live in downtown Manhattan, plus uncounted numbers who live throughout the metropolitan area. Many who escaped the towers and surrounding buildings on the 11th continue to struggle with "survivor guilt," or jump every time they hear a loud noise or a plane flying low. The only way they can be identified, and offered assistance through counseling, is if they make themselves known.
United Methodists poured out their hearts after this disaster and gave more than $20 million to enable UMCOR to respond to the events of September 11 and their aftermath in this country and internationally. The majority of these funds will be used in New York and New Jersey to assist people who will be struggling for years to recover from this disaster emotionally, physically, and materially. Some of that money will continue to be used to respond to the overwhelming need of the people of Afghanistan, whose suffering has been compounded by the war resulting from September 11 and who now have a chance to rebuild their country with the assistance of the international community. And some of these funds will continue to be used to support initiatives throughout the United Sates to promote understanding and reconciliation between Christians and Muslims, Arab-Americans and other Americans.
In all of its disaster response ministry, UMCOR focuses on those who otherwise fall through the cracks. In this instance, that includes people who do not have the resources or the insurance to recover: recent immigrants, restaurant workers, small-business owners, and other people who earned their living from tourism, real estate, or provision of services to the tens of thousands of people who used to spend their days in the downtown area and now work elsewhere. It will take years for the people of New York and New Jersey to recover.
There is a unique role for faith-based disaster recovery agencies such as UMCOR within the United States disaster response network. Because the church is in the community before the disaster and will still be there long after the disaster, faith-based recovery is oriented to long-term, people-centered disaster response.